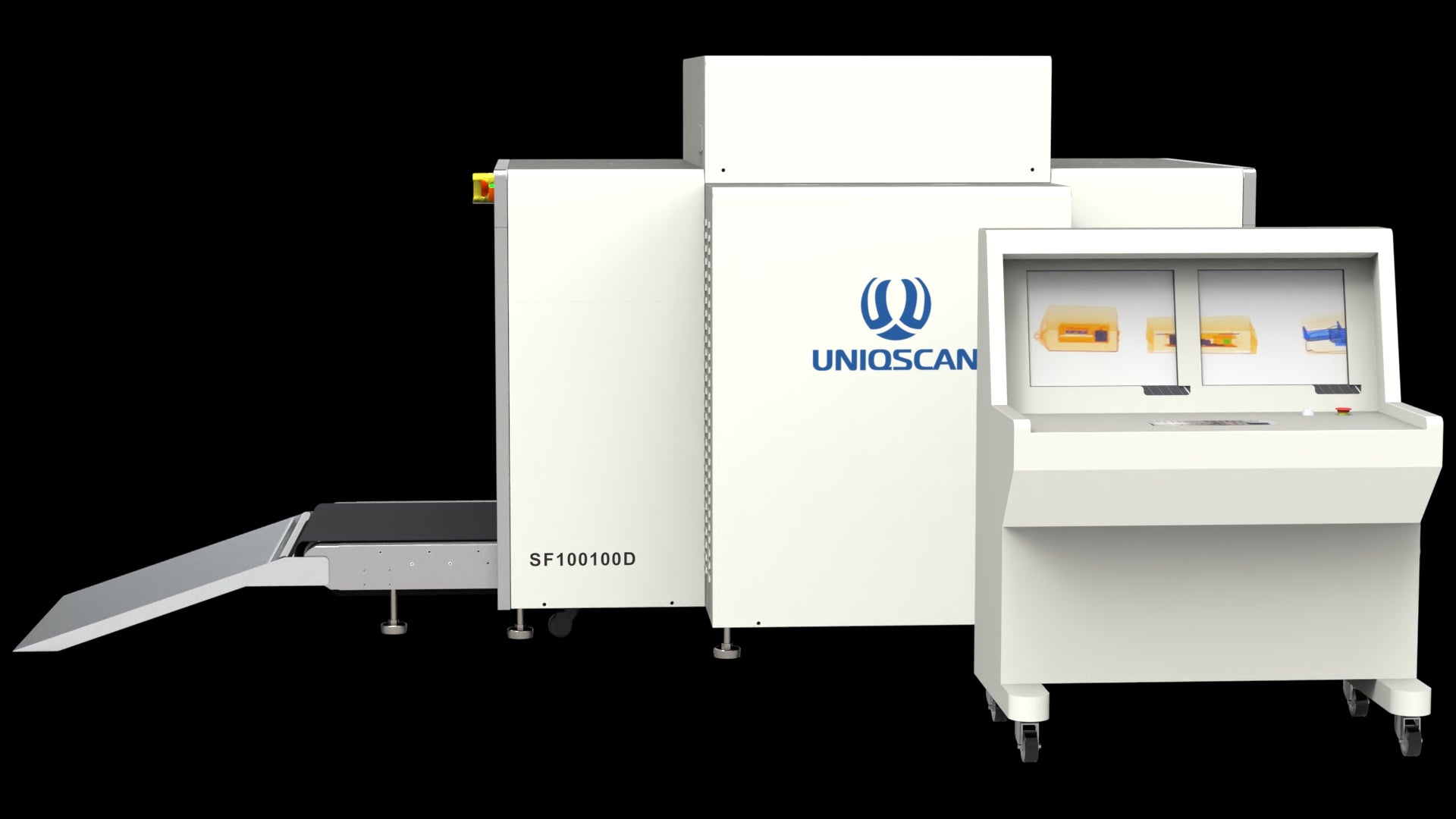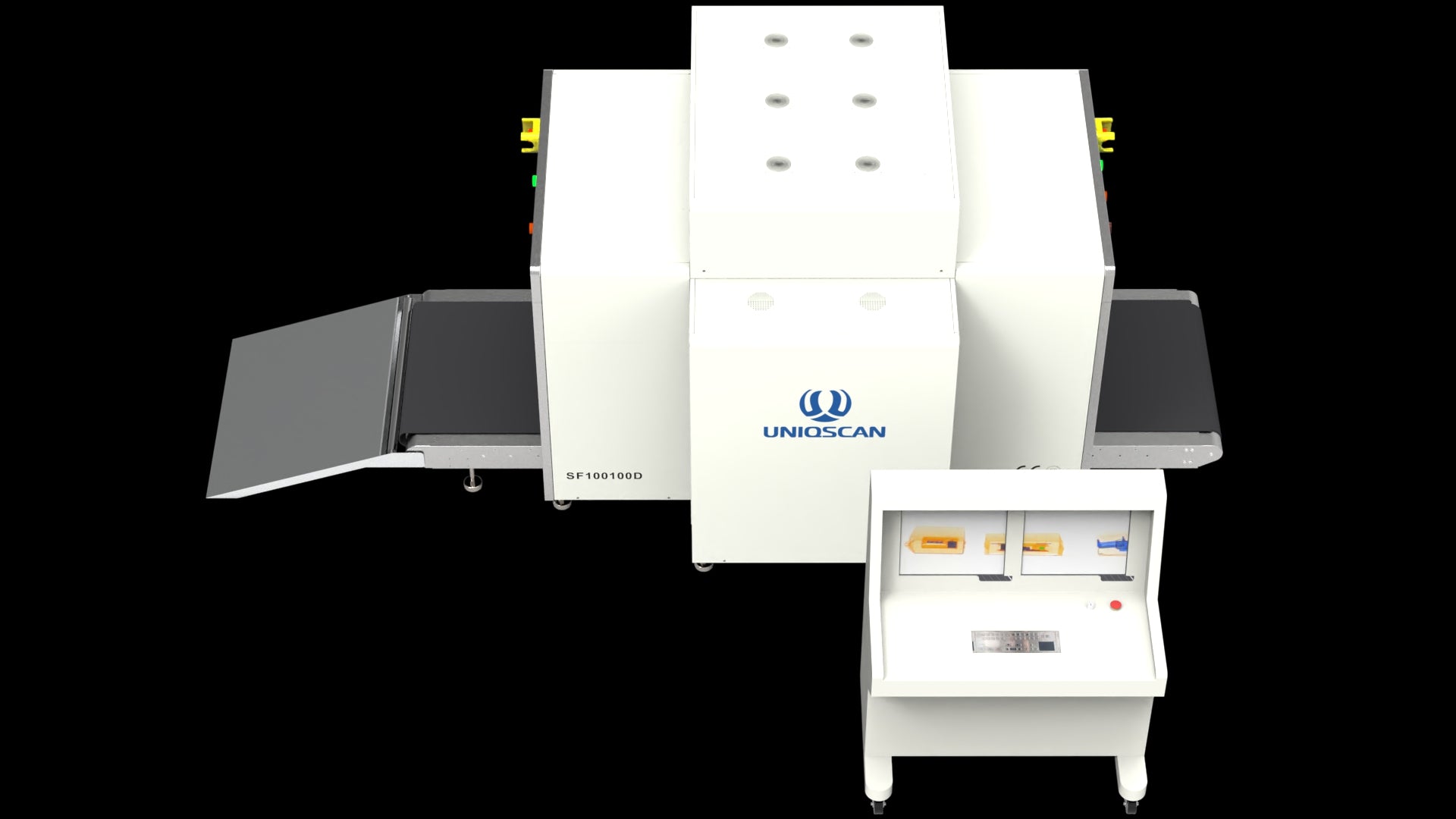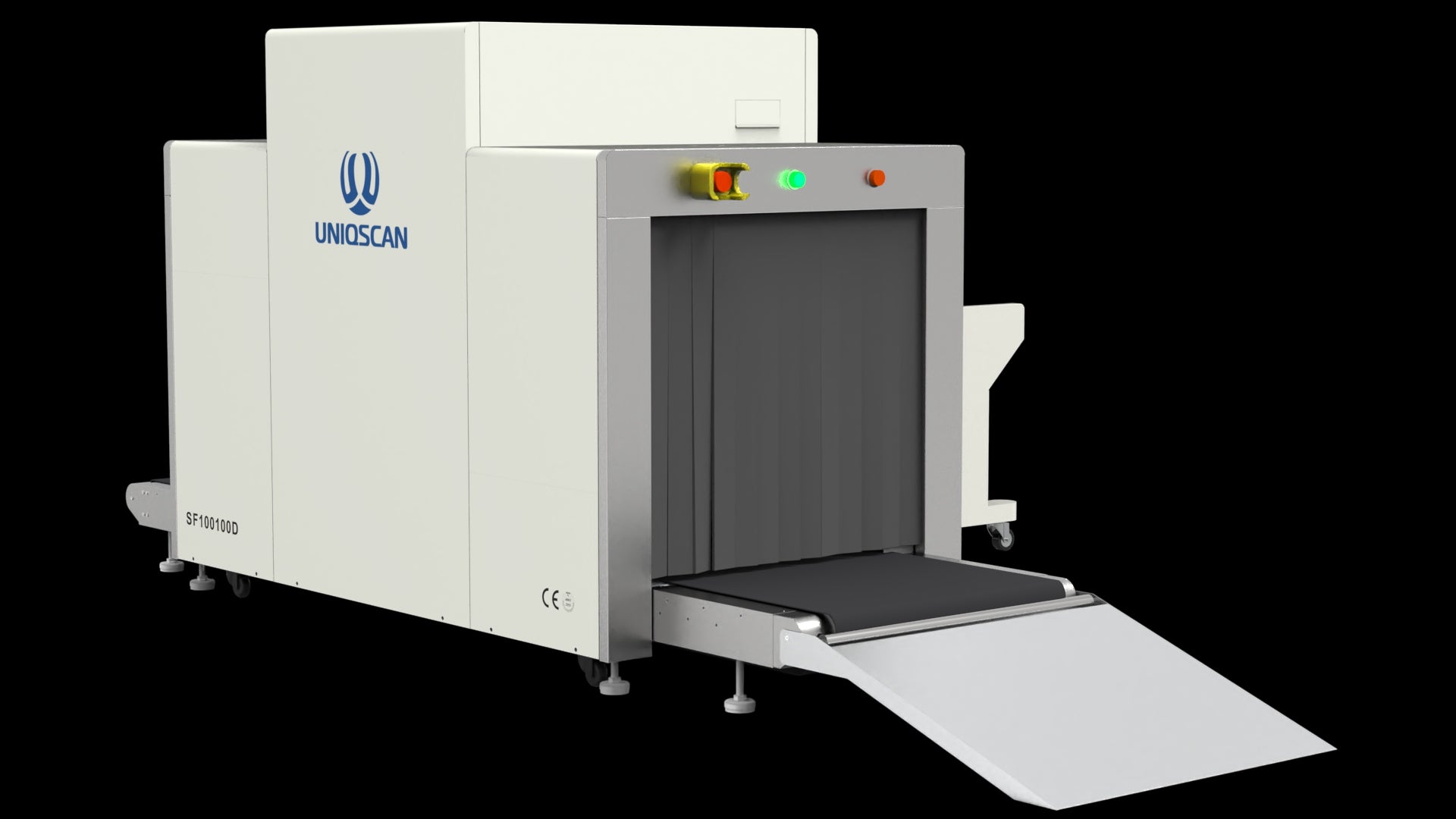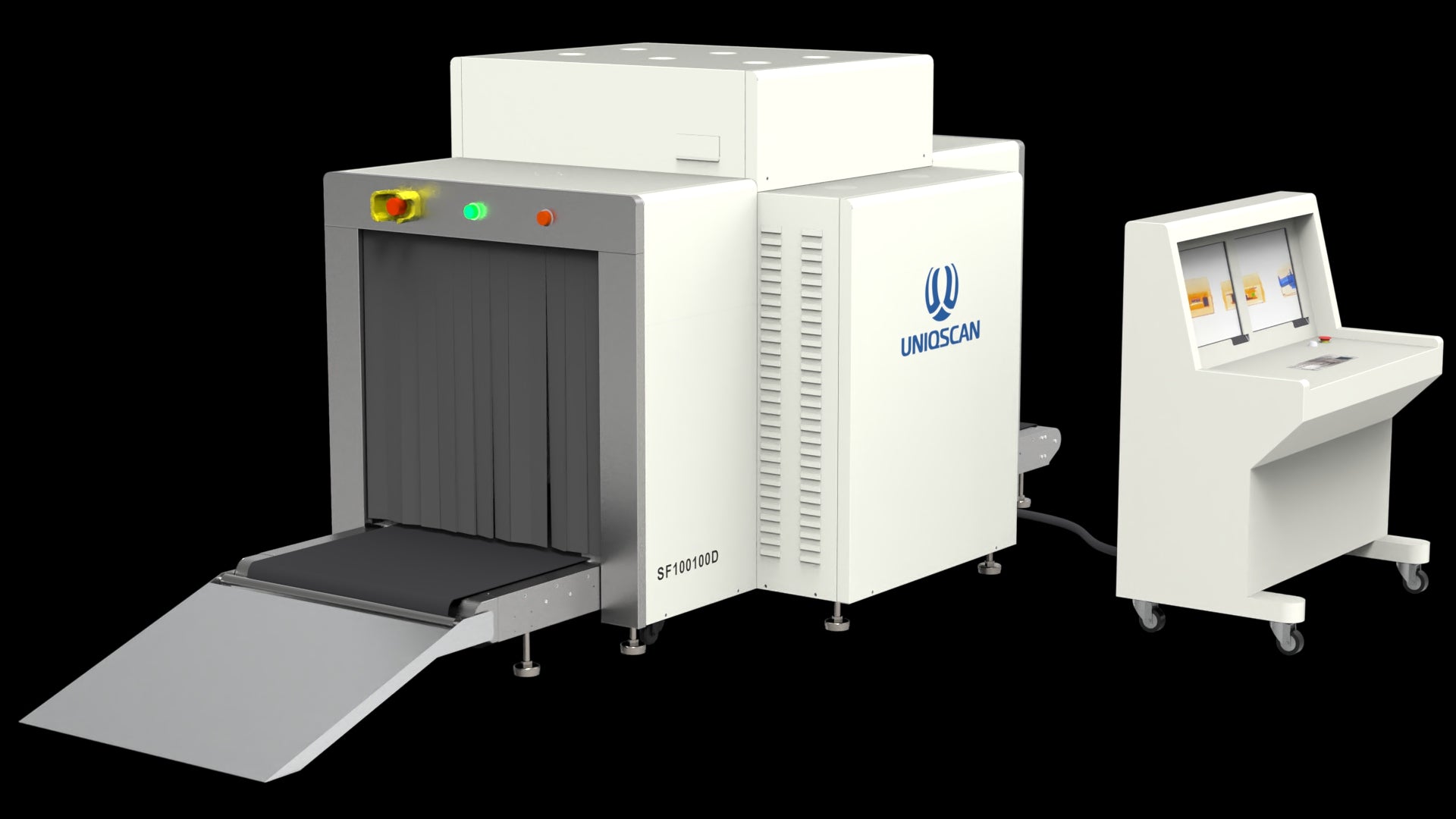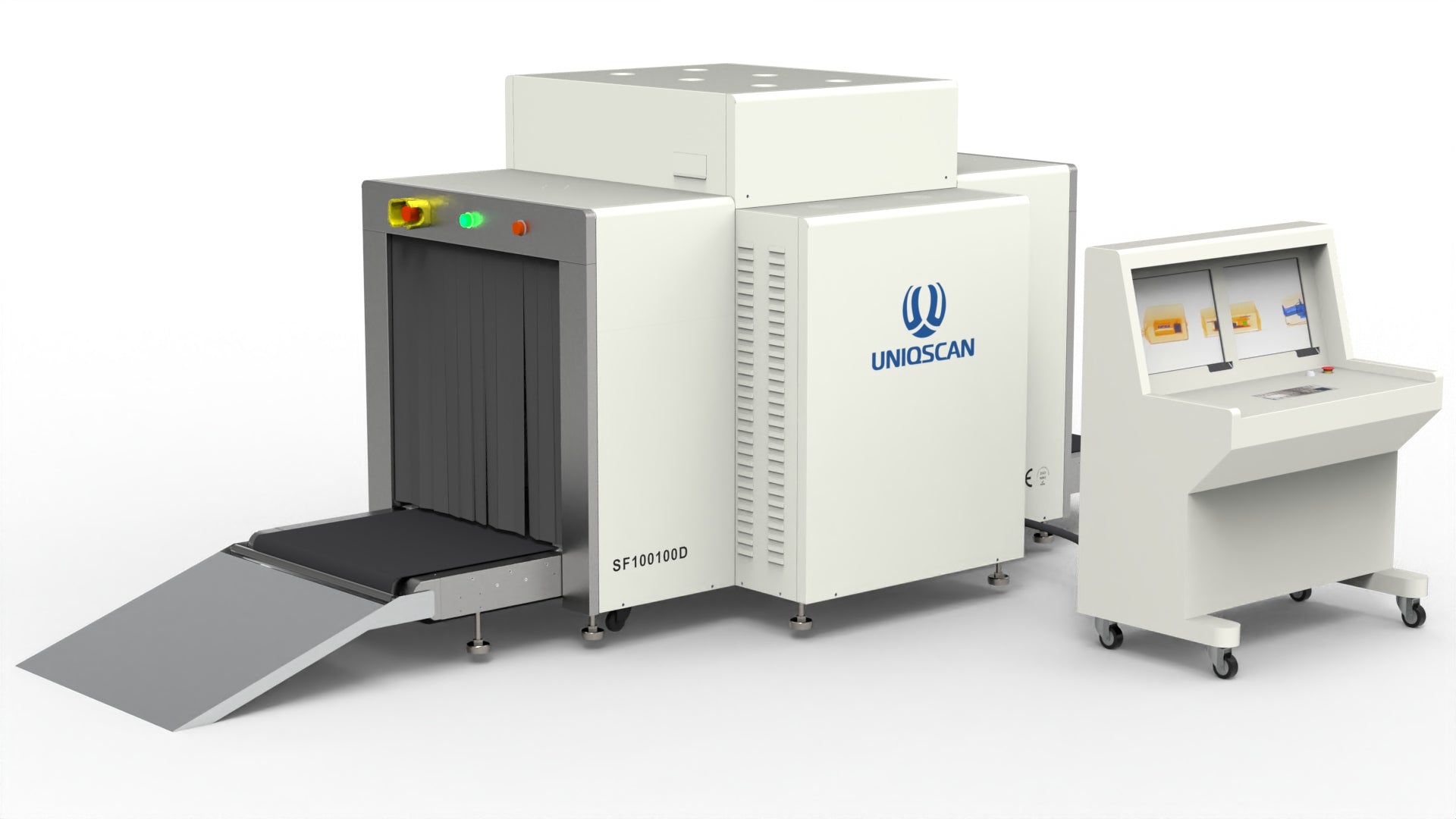 X-ray Baggage Scanner: SF100100D
Sale price
$0.00
Regular price
◆ 2* 19" High-Resolution LCD Monitor;
◆ Display Resolution: 1280*1024; Color and B/W scanning image display
◆ Dual energy
◆ L-shaped array detector
◆ L shape x-ray detector Safety Interlocks
◆ Emergency stop buttons on the console and entry & exit of the tunnel (one-key shutdown)
◆ Brightening/dimming: Increase/Decrease the brightness of the image
◆ Image Storage—100,000 pictures in real time (can be customized)
◆ Orientation: Downward;
◆ Tube Current: 1.0mA;
◆ Anode voltage: 160KV;
◆ X-ray divergence angle: 60 °;
◆ Warranty Two years
◆ Have CE , ISO, FCC, ROSH certification
50 people are viewing this right now
Product Description
Technical Data
Packaging and Shipping
Accessories
Download
The UNIQSCAN SF100100D Dual View X-ray Baggage Scanner is a state-of-the-art security screening solution designed for high-performance threat detection. Featuring dual view capability and advanced imaging technology, this scanner provides detailed and comprehensive images of scanned objects. With a spacious tunnel size of 1000mm (W) x 1000mm (H), it accommodates large baggage and parcels. The SF100100D utilizes dual energy, L-shaped array detectors, and color material identification to accurately detect organic and inorganic items. With robust construction and reliable performance, it ensures efficient and effective screening. This scanner is backed by a warranty and holds CE, ISO, FCC, and ROSH certifications, guaranteeing quality and compliance.

Features and Benefits
The UNIQSCAN SF100100D Dual View X-ray Baggage Scanner is an advanced security screening solution designed for efficient and reliable operation. Here is the requested content based on the provided specifications:

The SF100100D Dual View X-ray Baggage Scanner is equipped with two 19-inch high-resolution LCD monitors, offering a clear and detailed display of the scanned images. The display resolution is set at 1280*1024, supporting both color and black-and-white scanning image display. The scanner features dual energy functionality, allowing for enhanced detection capabilities by utilizing two different energy levels for scanning.
With its L-shaped array detector, the SF100100D ensures accurate and efficient image capture, enabling reliable screening results.

The L-shaped x-ray detector includes safety interlocks to ensure the secure operation of the scanner. Additionally, emergency stop buttons are strategically placed on the console and at the entry and exit points of the tunnel, providing a one-key shutdown option in case of emergencies.  Operators have the ability to adjust the brightness of the image using the brightening and dimming function, ensuring optimal image viewing based on lighting conditions.

The UNIQSCAN SF100100D offers a generous image storage capacity, allowing for real-time storage of up to 100,000 pictures. The storage capacity can also be customized to suit specific requirements.

The orientation of the SF100100D is downward, providing convenience and flexibility for scanning various baggage sizes and shapes. With a tube current of 1.0mA and an anode voltage of 160KV, the SF100100D delivers powerful performance for efficient screening. The X-ray divergence angle is set at 60°, providing a wide coverage area for thorough scanning.

The SF100100D comes with a two-year warranty, ensuring peace of mind and reliable support. Additionally, it holds CE, ISO, FCC, and ROSH certifications, guaranteeing compliance with international standards for quality, safety, and regulatory requirements.

Please note that specific details and specifications may vary depending on the manufacturer and model version. For accurate and up-to-date information about the SF100100D Dual View X-ray Baggage Scanner or any specific model, it is advisable to consult the official documentation or contact UNIQSCAN directly.

IMAGE PERFORMANCE SYSTEM
2* 19" High-Resolution LCD Monitor;
Color quality: 24-Bit real colors based on materials;
Contrast Sensitivity: 24 Visible Levels,4096 Gray Level;
High penetration display: Increase the contrast of bright area in image to make the area that is easy to penetrate appear more clearly;
Low penetration display: Increase the contrast of dark area in image to make the area that is difficult to penetrate appear more clearly.
Edge enhancement---The edge of image is more clear;
Image storage: 100,000 pictures in real time (can be customized)
Zoom: 64 Times Enlarge, Whole screen continuous observation
Zoom in/zoom out---Make the image bigger,make the image smaller;
Display the previous twenty images and process any one of them; Restore image to initial status;
Brighter/darker---Make image more bright /make image darker;
Replay---Playback all images on the screen at current,
CERTIFICATIONS
GENERAL SPECIFICATIONS
Tunnel Size

1000 (W) × 1000 (H) mm

Conveyor Speed

0.22m/s

Conveyor Max Load

300kg

Single inspection dosage

< 1.6μGy

Leakage radiation

<0.3μGy/h

Wire Resolution

40AWG(0.0787mm metal line)

Steel Penetration

36mm

Film Safety

For ISO 1600

X-RAY GENERATOR:

Orientation

Downward

Tube Current

1.0mA

Anode voltage

160KV

X-ray divergence angle

80 °

Generator cooling/working periods

sealed oil bath with forced air/100%
X-RAY SENSOR

L-shaped array detector, 24bit

SPECIAL FEATURES
Network interface

Capable of connecting to LAN, and support multi-terminal check for baggage at same time

Safety ray

Ray is transmitted under automatic control, avoiding the error; One-key shutdown control: Just rotate the key to shut down the machine; it is safety, easy and convenient

Eagle eye

Capable of expediently observing the magnifying area Self-diagnosis function: Give message automatically if malfunction for prompt maintenance

Self-diagnosis function
Give a message automatically if malfunction for prompt maintenance
One-key shutdown control
just rotate the key to shut down the machine; it is safe, easy and convenient
OPERATING ENVIRONMENT
Power Requirement
220V AC (±10%) 50

±

3Hz)
Power consumption
1.0KW (Max)
Noise level
<58dB
Spatial Resolution
1.0mm Horizontal and Vertical
Operating temperature/humidity
0°C -45°C/20%-95% (Non-condensing)
Storage temperature/humidity:
-20°C ~ 60°C/20% ~ 95% (Non condensing)