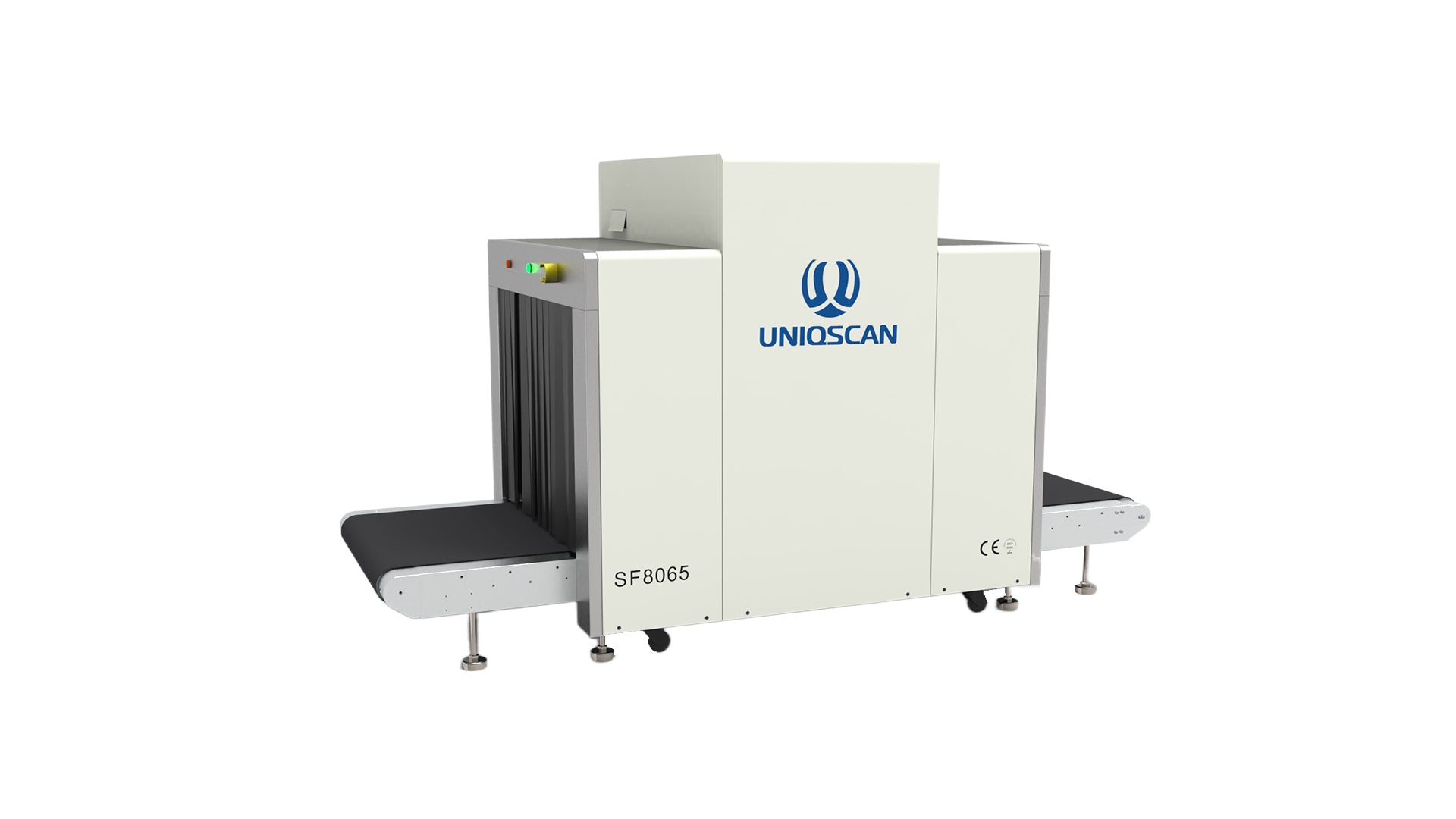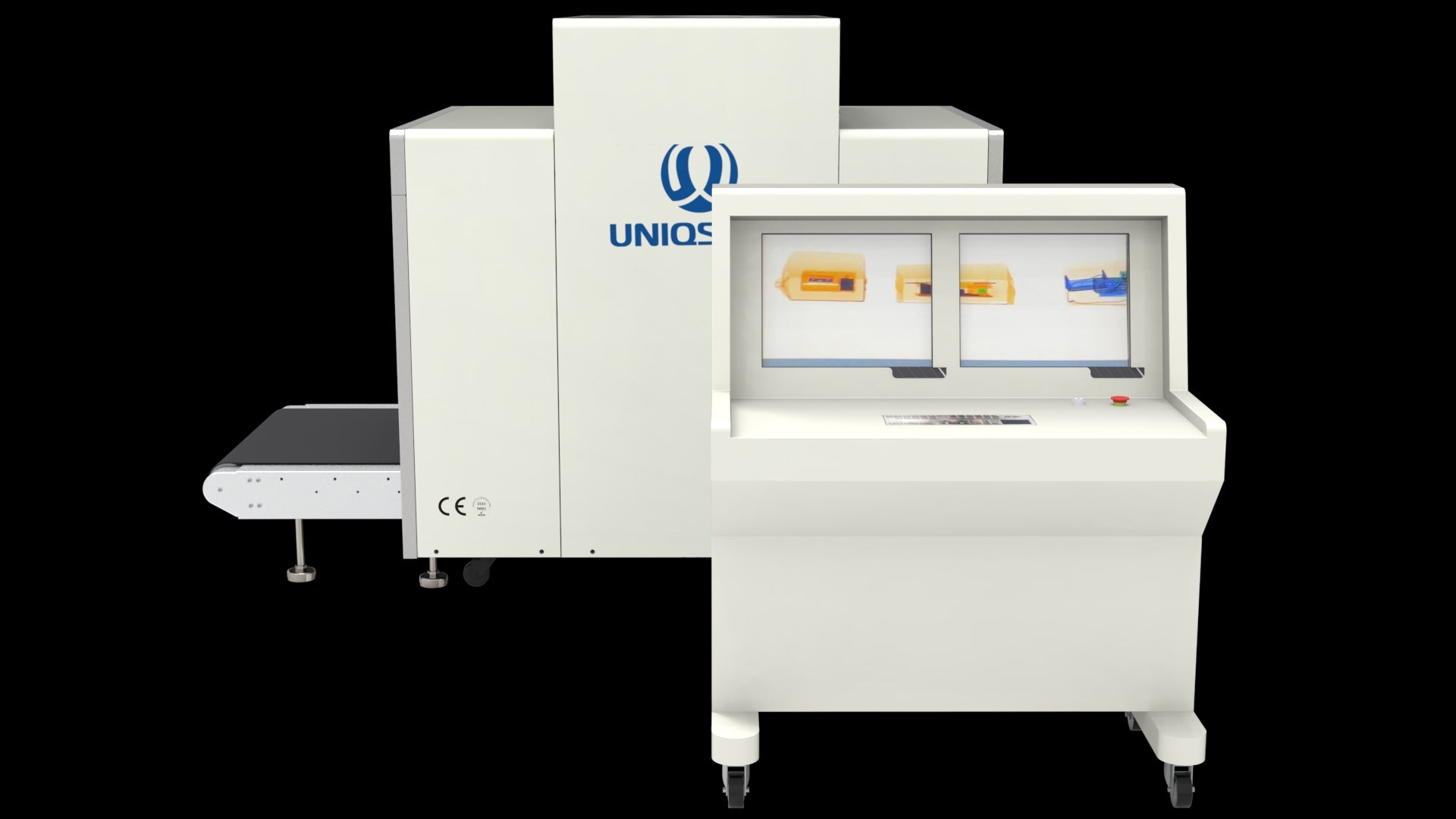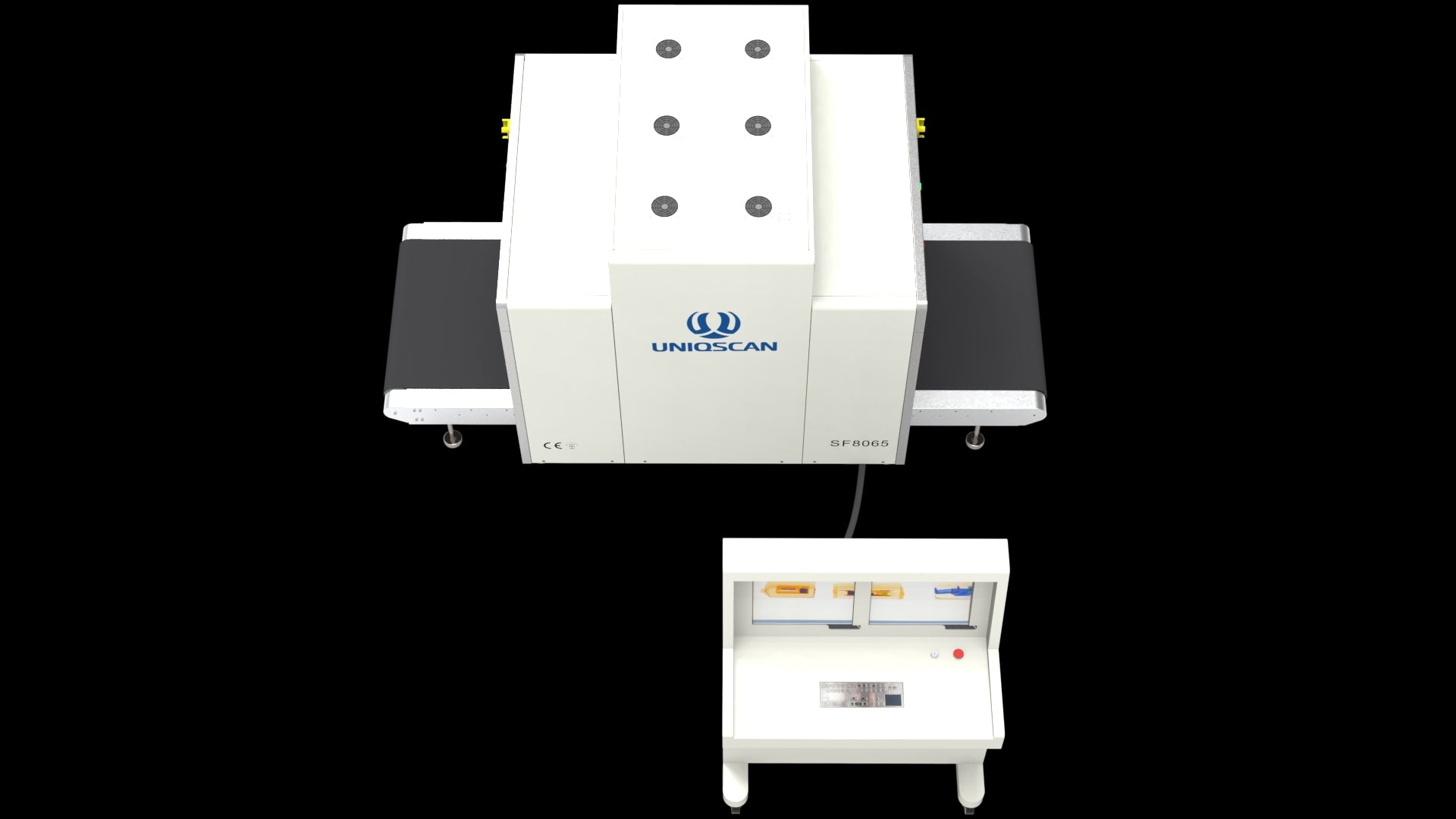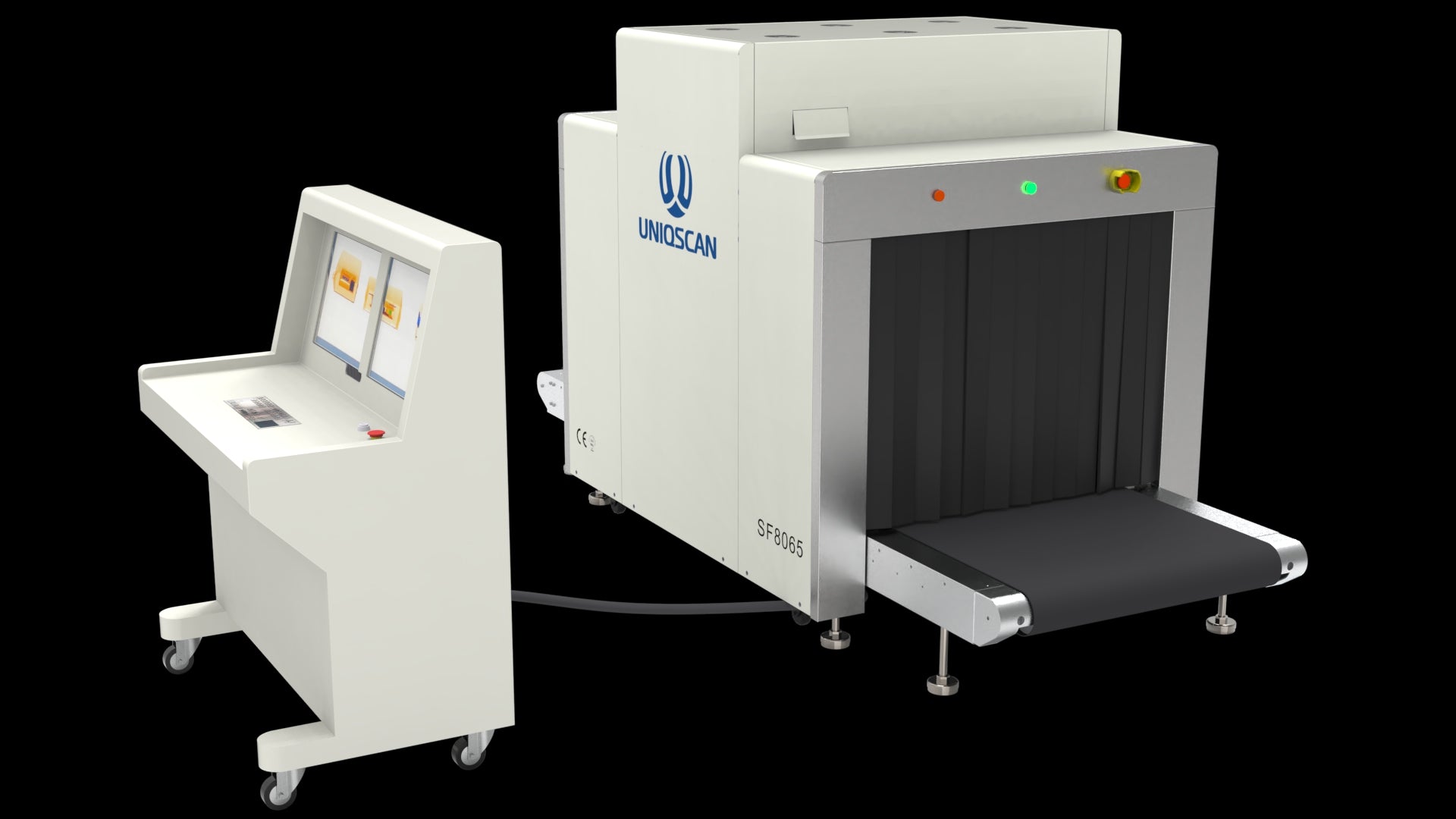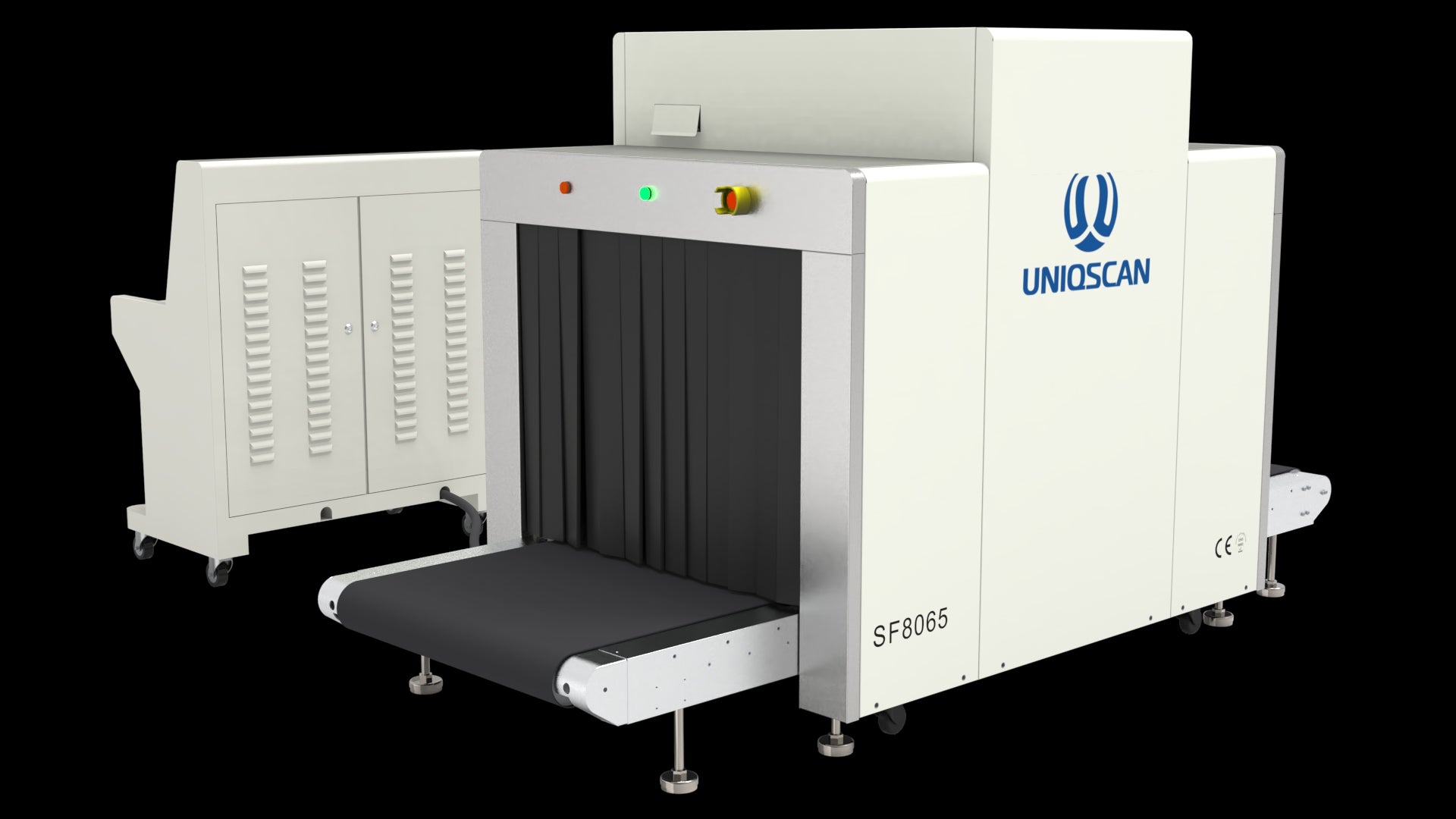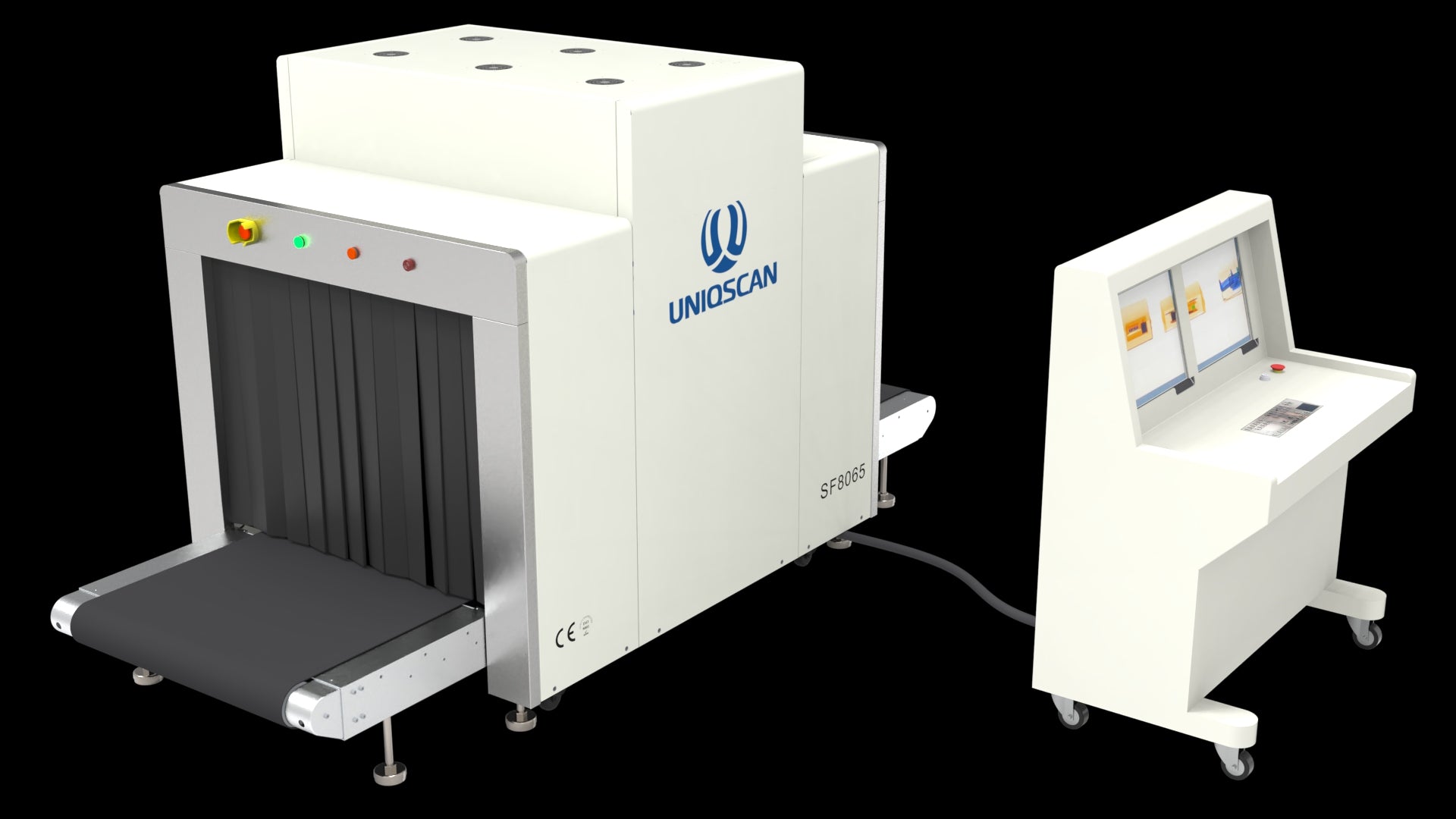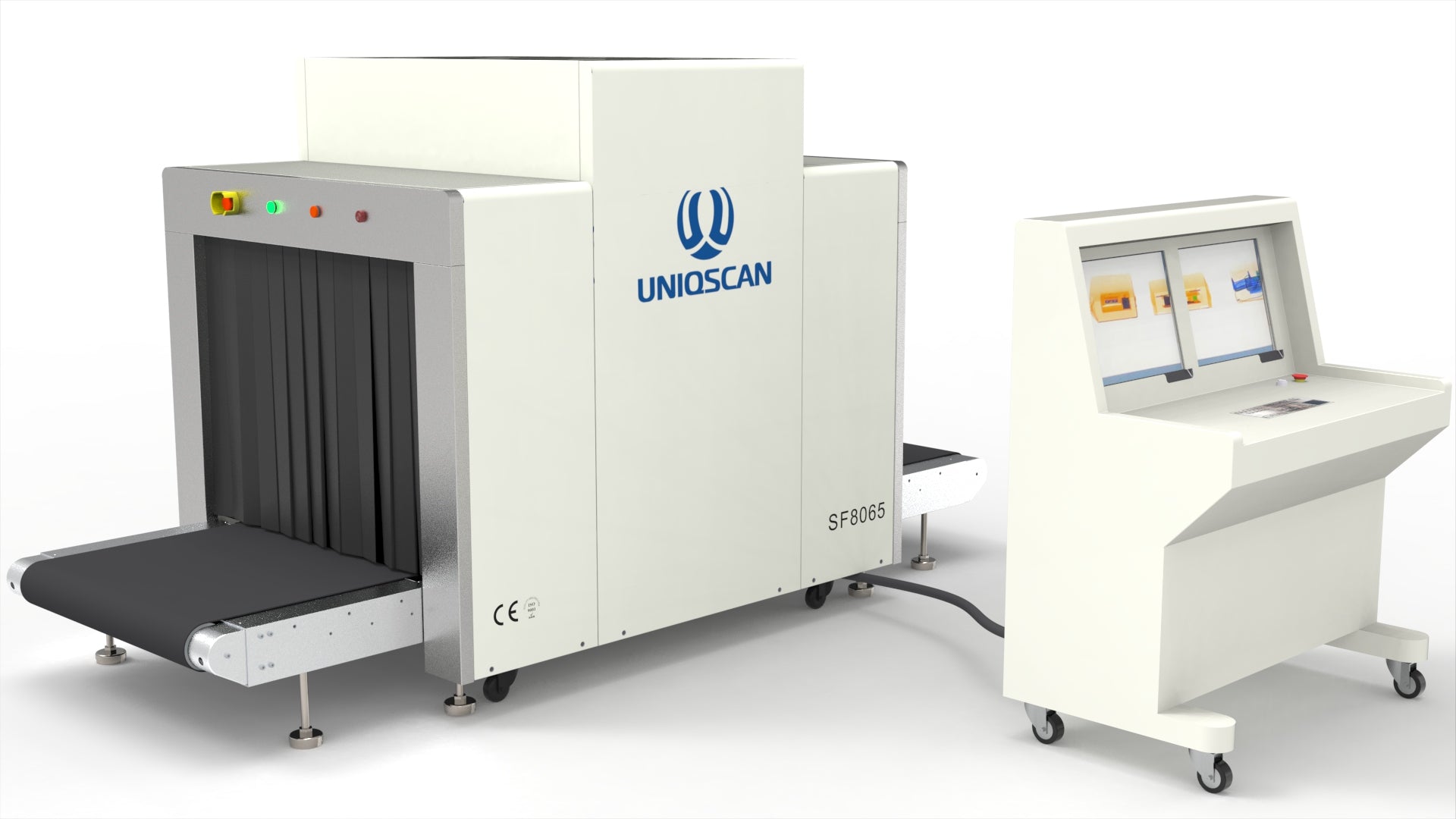 X-ray Baggage Scanner: SF8065
Sale price
$0.00
Regular price
◆ Display: High-resolution 19-inch color LCD display;
◆ Color quality: 24-Bit real colors based on materials
◆ Color material identification: Organic objects in orange, inorganic objects in the blue, mixture in green
◆ Assist to detect drug and explosive powder
◆ Super image enhancement: Image detail is more distinct
◆ Brightening/dimming: Increase/Decrease the brightness of the image
◆ Multi-energy: High/low energy: Switch from high energy to low energy
◆ Orientation: Downward;
◆ Tube Current: 1.0MA;
◆ Anode voltage: 160KV;
◆ X-ray divergence angle: 80 °;
◆ Cooling: Sealed oil bath with forced air;
◆ Generator cooling/working periods: Sealed oil bath
◆ with forced air
54 people are viewing this right now
Product Description
Technical Data
Packaging and Shipping
Accessories
Download
UNIQSCAN X-ray baggage scanners play a crucial role in ensuring the safety and security of public spaces such as airports, train stations, and government buildings. Among the innovative models available, the Uniqscan SF8065 X-ray Baggage Scanner stands out for its advanced features and high-performance capabilities. This article explores the key specifications and benefits of the SF8065, highlighting its ability to provide accurate and efficient security screening. High-Resolution Color Display: Equipped with a high-resolution 19-inch color LCD display,

Features and Benefits
UNIQSCAN SF8065 offers operators a clear and detailed view of scanned baggage contents. The 24-bit real colors, based on materials, ensure accurate representation and improve the identification process. Organic objects are displayed in orange, inorganic objects in blue, and mixtures in green, enhancing the operator's ability to detect and differentiate between various materials. Drug and Explosive Powder Detection: The SF8065 X-ray Baggage Scanner incorporates advanced technology that assists in the detection of drugs and explosive powder. With its sophisticated algorithms and powerful image processing capabilities, the scanner can highlight suspicious substances, alerting operators to potential threats. This feature greatly enhances security protocols, contributing to safer environments for everyone. Super Image Enhancement: One of the standout features of the SF8065 is its super image enhancement capability. By applying advanced image processing algorithms, this scanner significantly improves image detail and clarity. Operators can zoom in on specific areas of interest, enabling thorough inspections and accurate identification of potential security risks. Brightness Control: The SF8065 offers operators the ability to adjust the image brightness according to their requirements. The brightening and dimming functionality enhances visibility, particularly in situations where lighting conditions may be challenging. This flexibility ensures optimal image analysis and detection accuracy, even in varying environmental settings. Multi-Energy Scanning: The SF8065 supports multi-energy scanning, enabling operators to switch between high and low-energy settings. High-energy scanning is suitable for detailed inspections, while low-energy scanning is ideal for a faster throughput of baggage screening. This versatility allows for efficient operations while maintaining stringent security standards. Technical Specifications: The SF8065 X-ray Baggage Scanner is designed with advanced components to deliver exceptional performance. It operates with a tube current of 1.0MA and an anode voltage of 160KV, ensuring reliable and accurate scanning results. The X-ray divergence angle of 80° provides comprehensive coverage, reducing the chances of any concealed threats going undetected. The scanner's cooling system, utilizing a sealed oil bath with forced air, ensures reliable performance during extended working periods. Conclusion: The SF8065 X-ray Baggage Scanner is a state-of-the-art security screening solution that combines advanced features with high-performance capabilities. Its high-resolution color display, drug, and explosive powder detection, super image enhancement, and multi-energy scanning capabilities contribute to improved threat detection accuracy and overall security. By utilizing this advanced technology, organizations can enhance their security protocols and provide safer environments for individuals around the world.

IMAGE PERFORMANCE SYSTEM
2* 19" High-Resolution LCD Monitor;
Color quality: 24-Bit real colors based on materials;
Contrast Sensitivity: 24 Visible Levels,4096 Gray Level;
High penetration display: Increase the contrast of bright area in the image to make the area that is easy to penetrate appear more clearly;
Low penetration display: Increase the contrast of dark area in the image to make the area that is difficult to penetrate appear more clearly.
Edge enhancement—The edge of the image is more clear;
Image storage: 100,000 pictures in real time (can be customized) Zoom: 64 Times Enlarge, Whole screen continuous observation
Zoom in/zoom out—Make the image bigger, make the image smaller;
Display the previous twenty images and process any one of them; Restore the image to initial status;
Brighter/darker—Make image more bright /make the image darker;
Replay—Playback all images on the screen at the current, and be able to do the next steps.
 SF8065 X-ray safety detection equipment can display pseudo color and black and white images, with simple and efficient operation, with reasonable human design. We provide a fully intelligent and secure inspection system for our customers.

CERTIFICATIONS
GENERAL SPECIFICATIONS
Tunnel Size

800 (W) × 650 (H) mm

Conveyor Speed

0.22m/s

Conveyor Max Load

200kg

Single inspection dosage

< 1.15μGy

Leakage radiation

<0.14μGy/h

Wire Resolution

40AWG

Steel Penetration

36mm

Film Safety

For ISO 1600

X-RAY GENERATOR:

Orientation

Downward

Tube Current

0.4~1.2MA ( adjustable

Anode voltage

100-160KV

X-ray divergence angle

80 °

Generator cooling/working periods

sealed oil bath with forced air/100%
X-RAY SENSOR

L-shaped array detector, 24bit

SPECIAL FEATURES
Network interface

Capable of connecting to LAN, and support multi-terminal check for baggage at same time

Safety ray

Ray is transmitted under automatic control, avoiding the error; One-key shutdown control: Just rotate the key to shut down the machine; it is safety, easy and convenient

Eagle eye

Capable of expediently observing the magnifying area Self-diagnosis function: Give message automatically if malfunction for prompt maintenance

OPERATING ENVIRONMENT
Power Requirement
220V AC (±10%) 50

±

3Hz)
Power consumption
1.0KW (Max)
Noise level
<58dB
Spatial Resolution
1.0mm Horizontal and Vertical
Operating temperature/humidity
0°C -45°C/20%-95% (Non-condensing)
Storage temperature/humidity:
-20°C ~ 60°C/20% ~ 95% (Non condensing)