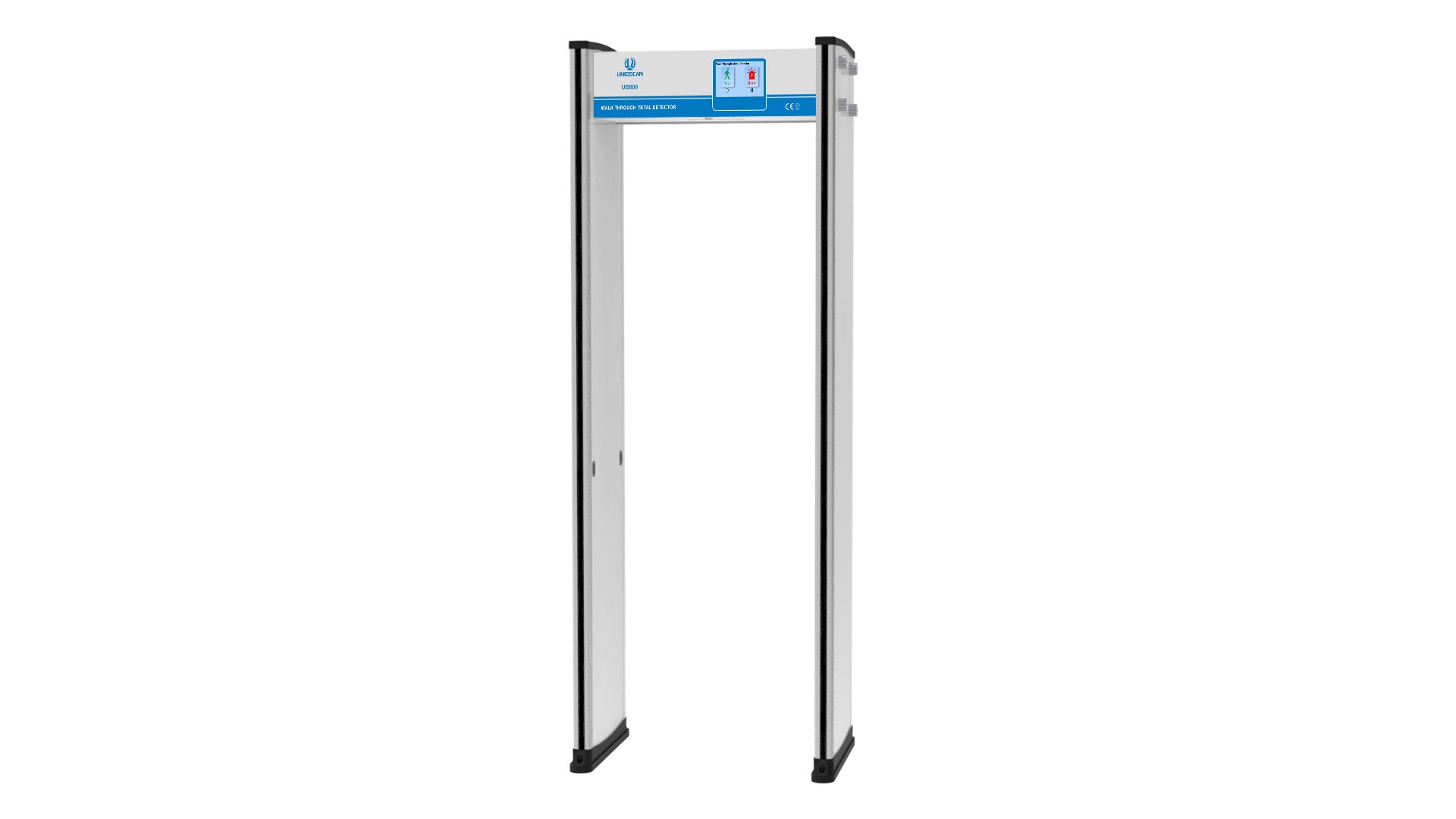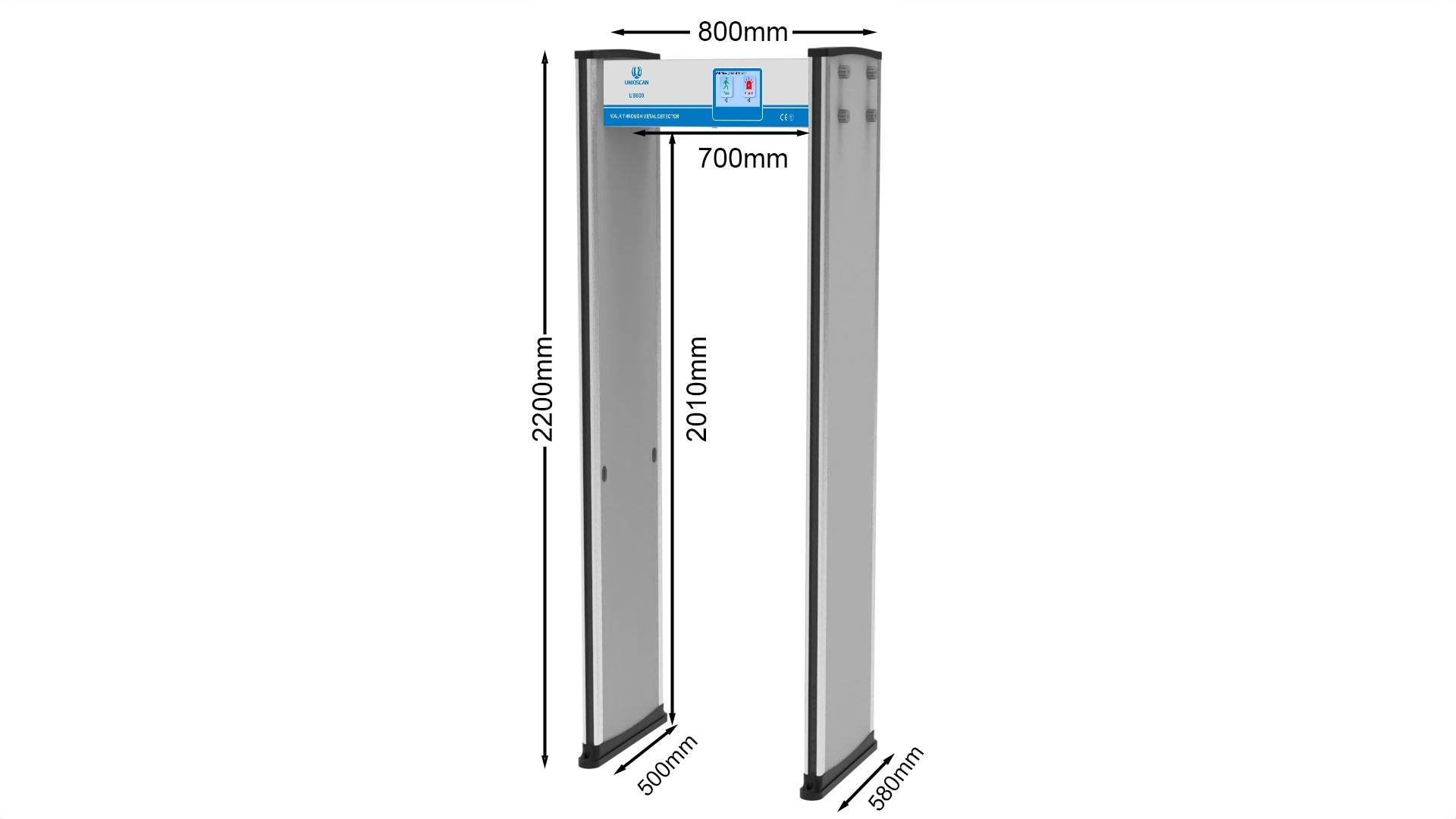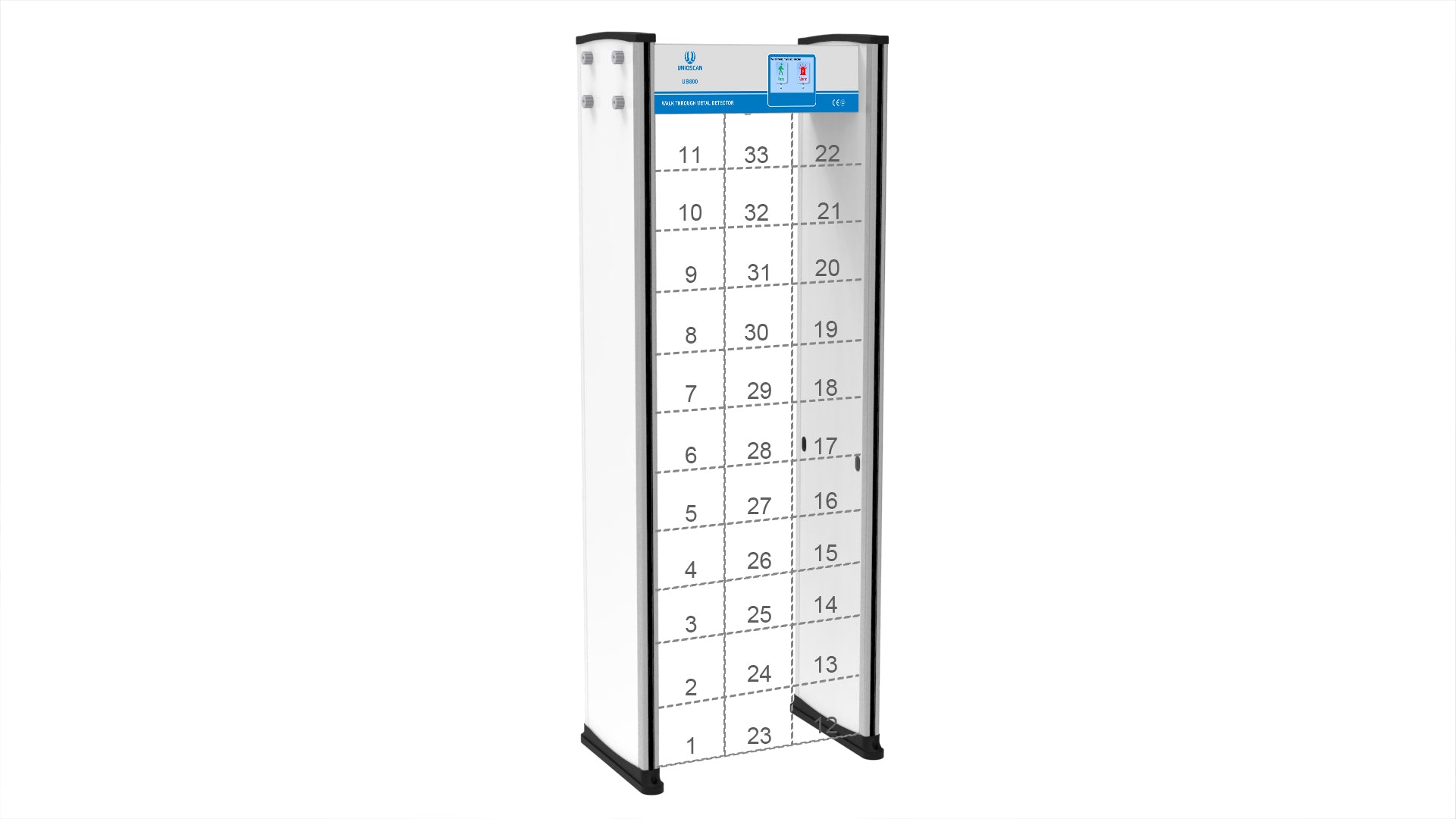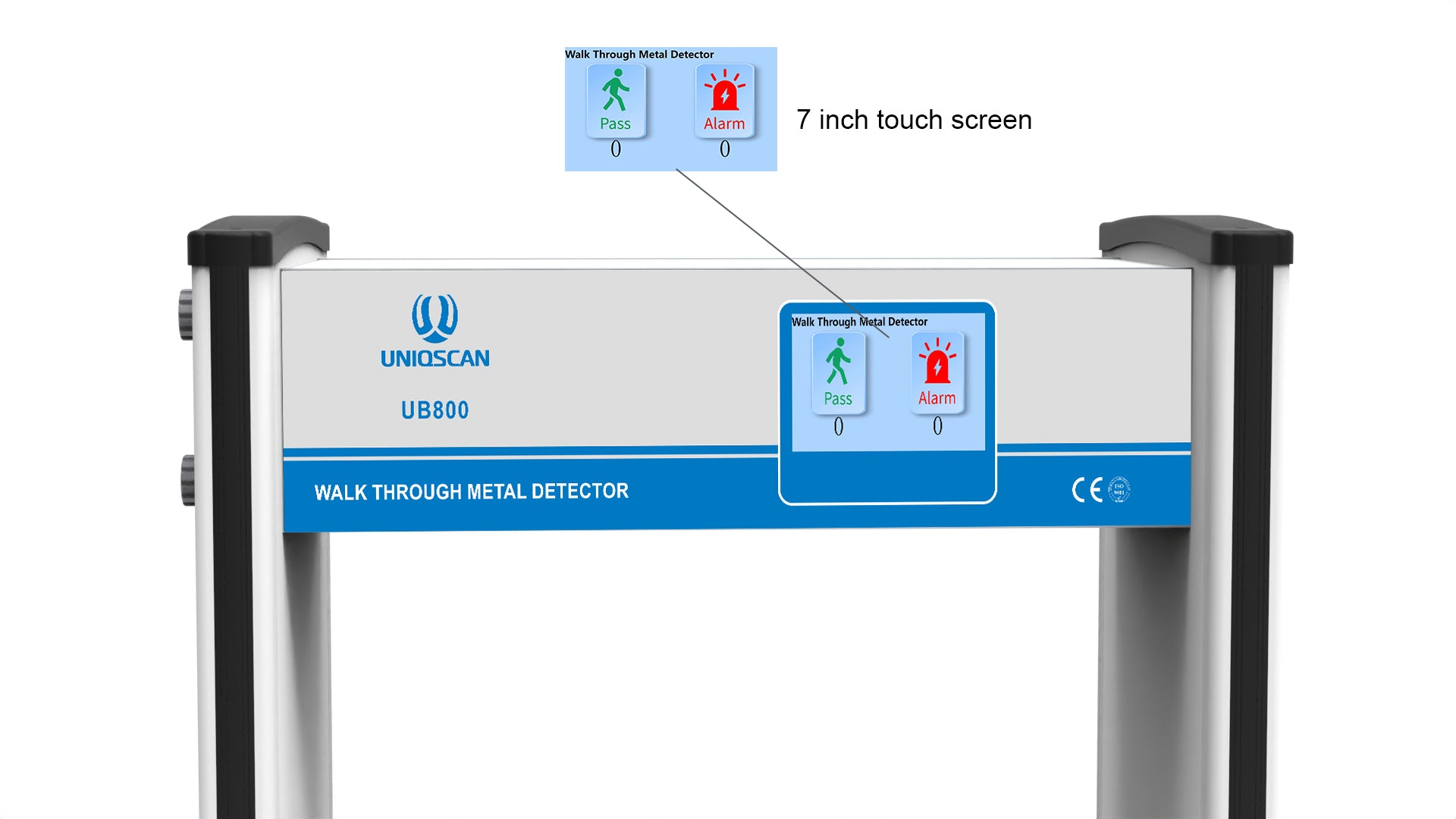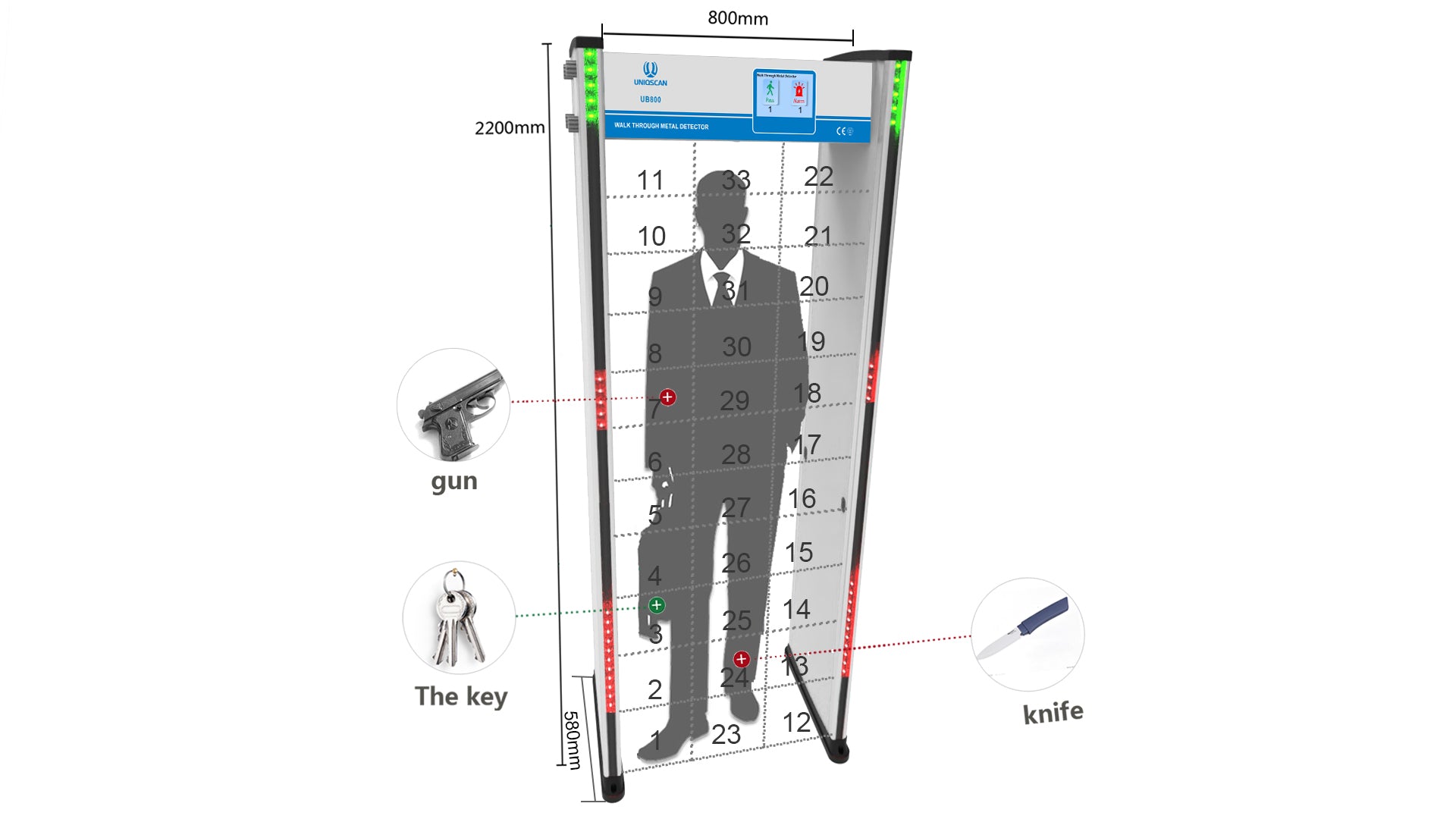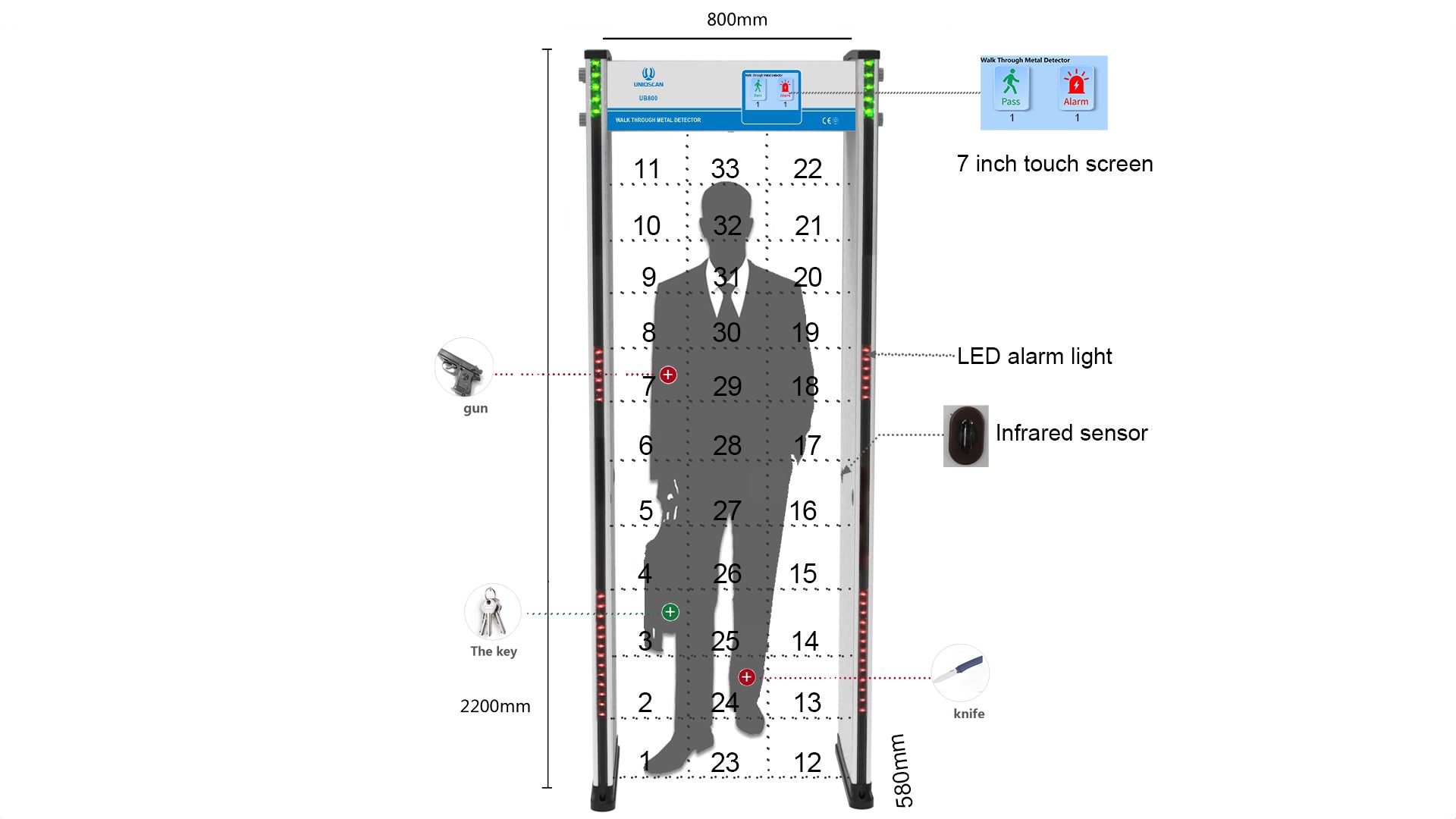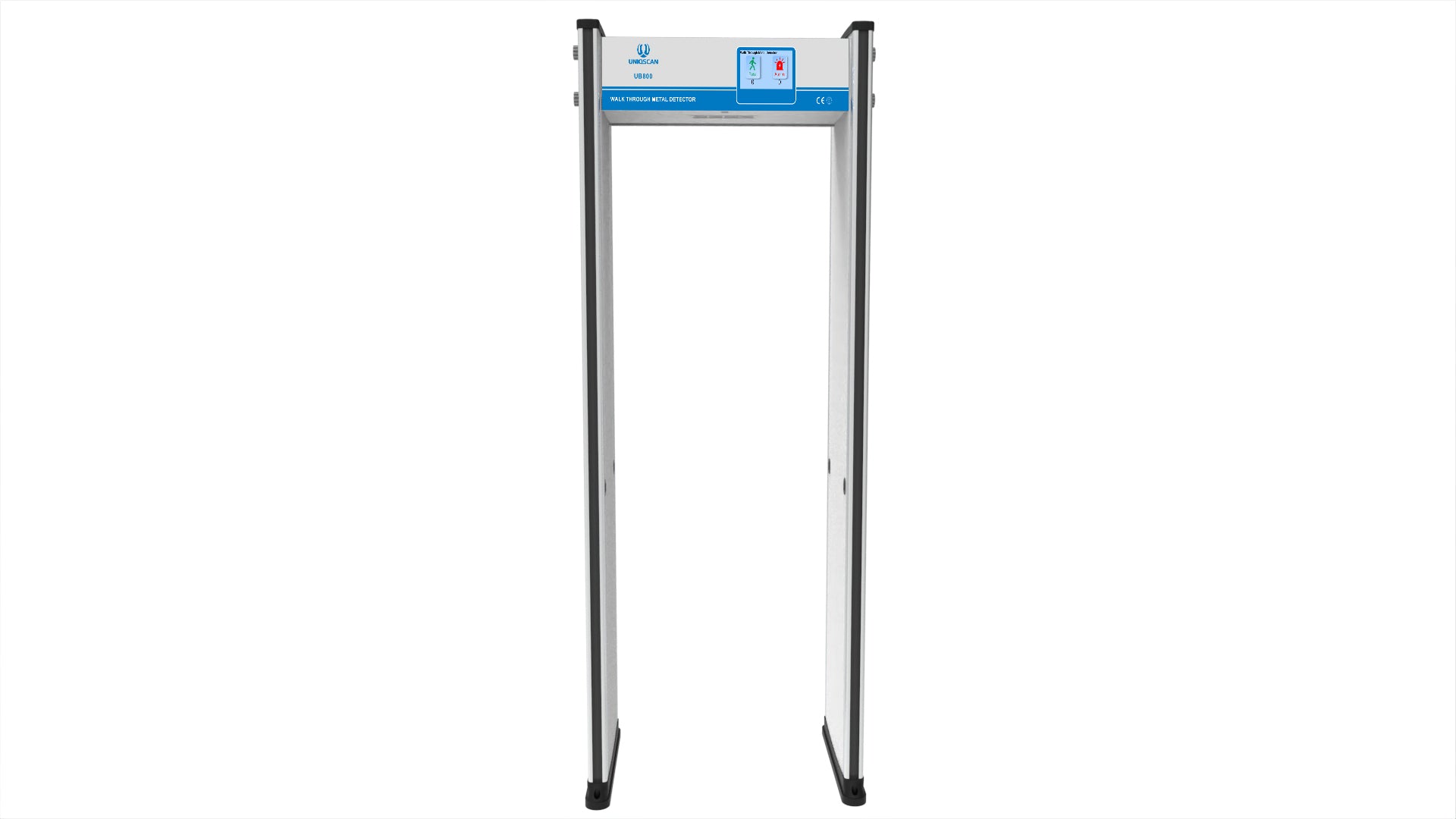 Walk Through Metal Detector: UB800
Sale price
$0.00
Regular price
◆ Detection Zones: 33 zones & 36 zones
◆ Detection mode: Bilateral Transmission Bilateral reception
◆ Multi-Unit Synchronization: Manual
◆ Sensitivity: Each zone 0-999, 1000 levels adjustable
◆ Frequency : 4K-8KHz continuously adjustable
◆ Minimum Detection: 3.25*3.25CM iron nugget
◆ Visual Displays: Pass count & Alarm count (7 inch LCD Display)
◆ Weatherproofing: IP53, Temp: -20°C to +45°C
◆ Infrared passing speed: 60/min
◆ Easy install
◆ Safe for the human body
◆ Support multi-language
◆ Warranty: 24 months (limited)
◆ Technical support
◆ optional function: Battery, wheels, CCTV system
63 people are viewing this right now
Product Description
Technical Data
Packaging and Shipping
Accessories
Download
UB800plus is a highly versatile walkthrough metal detector , with 33 zone and adjustable sensitivity making it widely used in airports, stations, shopping malls, and other security inspection places. this product. The detection structure uses electromagnetic field to detect the metal objects in the body. It consists of a host, a high-frequency signal generator, a signal receiver, and an infrared sensor. It uses sound and light to alarm indicate that the metal objects in the body exceed a certain amount. It is used for security inspection. It can speed up the detection efficiency during the project.
The UB-800's Access Control Panel is designed for use by authorized personnel with specific, multi-level security with password protection; only the authorized person can operate; Sound & LED alarm: Both Side LED indicators easily show where the metal is, Automatically count passengers, and alarm times.
33 distinct zones are displayed with two (2) independent columns of LEDs
Self-diagnostic program: complete and automatic
7-inch LCD screen, remote control, English program
Sensitivity: 0-999 distinct sensitivity levels, adjustable
Automatically count passengers and alarm times, 5 digits counter
Password protection
Harmless to heart pacemakers, pregnant women. etc
Modularized design, simple installation, and after-sales services
15 preset programs for security applications *
5 digits counter. Automatically count passengers and alarm times
High sensitivity: Ferrous/ non-ferrous /Alloy can be detected
Alarm volume range from level 1 to 9
Alarm tones: Change from 0 to 9 (10 different tones for choosing)
We own all of the intellectual property rights (IPR) to its core technologies and have an experienced engineering team. Our excellent technical development capacity supports us are able to have continuously new production lines. The Uniqscan metal detector is a leader in global safe drilling and handheld metal detection products and training. From the Olympics to international airports around the world, Uniqscan has reliable experience, expertise, and reliable products to make your facilities or events safer.
TRUE QUALITY

SAFE & HARMLESS
Harmless to the human body: is harmless with heart pacemakers, pregnant women, magnetic floppy, recording tapes, etc.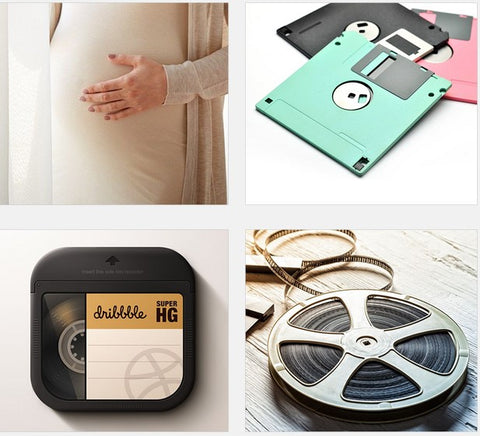 CERTIFICATIONS
SCOPE OF APPLICATION
| | |
| --- | --- |
| FUNCTION PARAMETER | |
| Detection Zones | 33 zone |
| Multi-Unit Synchronization | Manual |
| Visual Displays | 7 inch LCD |
| Access Control | Button |
| Control Outputs | Alarm area indicator and buzzer |
| Sensitivity | Each zone 0-999, 1000 levels adjustable |
| Frequency | 4K-8KHz continuously adjustable |
| Smallest detectable unit | One yuan coin |
| Infrared beam mode | One-way, two-way, can be closed |
| Remote Control | No remote control |
| Infrared passing speed | 60/min |
| Environmental Signal Interference Detection | Real-time display of signal strength |
| ELECTRICAL PARAMETERS | |
| Power | AC110V(220V)/60HZ(50HZ) |
| Working current | 1A |
| Power consumption | <12W |
| USE ENVIRONMENT | |
| Protection class | IP53 |
| Use environment | Indoor only |
| Operating Temperatures | -20℃~45℃ |
| Working humidity | 0-0.95,no condensation |
| MATERIAL | |
| Construction | MDF Marbling |
| Cable connector | DB15 |
| Installation method | Vertical installation |
SIZE PARAMETERS



Chassis size

700(H)*330(W)*200(D)mm

Door size

2205(H)*500(W)*55(D)mm

Passageway Interior Size

1990(H)*700(W)*500(D)mm

Overall Exterior Size

2200(H)*860(W)*580(D)mm

Shipping Size

2280(H)*570(W)*210(D)mm (Door panel)




770(H)*390(W)*280(D)mm(Control unit )

Product Weight

70kg

Shipping Weight

78kg

Carton Dimension
L*W*H (mm)

Door Panel

2280(H)*570(W)*210(D)mm

Control Unit

770(H)*390(W)*280(D)mm
Details:
A. 5 Digital LED Count:

Easy show & count passengers;
B. 8 Screws:

Easy assembly and installation;
C. Socket:

Easy connect both door panels;
D. Power Line: Support UK / European / USA standards;
E. Integrated Circuit Board: Intelligent circuit;
F. Infrared Sensor: Accuracy check;
G. Tamper Indication:

Easily distinguish interference;
H. Foot Cover: Easy fastness ;