HAND HELD METAL DETECTOR: MD3003B1
Sale price
$0.00
Regular price
51 people are viewing this right now
Product Description
Technical Data
Packaging and Shipping
Accessories
Download
| | |
| --- | --- |
| Unit Dimension | 410(L)* 85(W)* 45(H) mm |
| Power voltage | standard 9V battery |
| Operating voltage | 7V-9V |
| Operating Current | <50mA |
| Alarm terms | sound (vibration) and light alarm simultaneously |
| Waterproof | IP31 |
| Alarm Sound | ≥75dB(A) |
| Operation Frequency | 40KHz |
| Housing material | ABS- black |
| Package | 25pcs/carton |
| Gross Weight for a carton | 14kgs |
| Carton Dimension | 510(L) X 260(W) X 430(H) mm |
It can be recharged. It needs 4-6 hours for charging. (the charger and rechargeable battery order will be  additional) .Rechargeable Battery Kit, Allows recharging without removing the battery. Includes environment-friendly, Cadmium-free Ni-MH battery and charger.
Portable metal detector convenient to take.
When the low sensitivity mode is on, the metal detector will only alarm when it finds the big metal object.
The alarm terms are sound and light alarm simultaneously, or vibration and light alarm simultaneously. You can choose the operating terms optionally.
Power voltage:7.4V lithium-ion battery, 9V Ni-MH batterie
Lithium-ion  battery, USB charge cable (for option)
Battery saving function: Automatically power OFF after one minute if no use. (for option)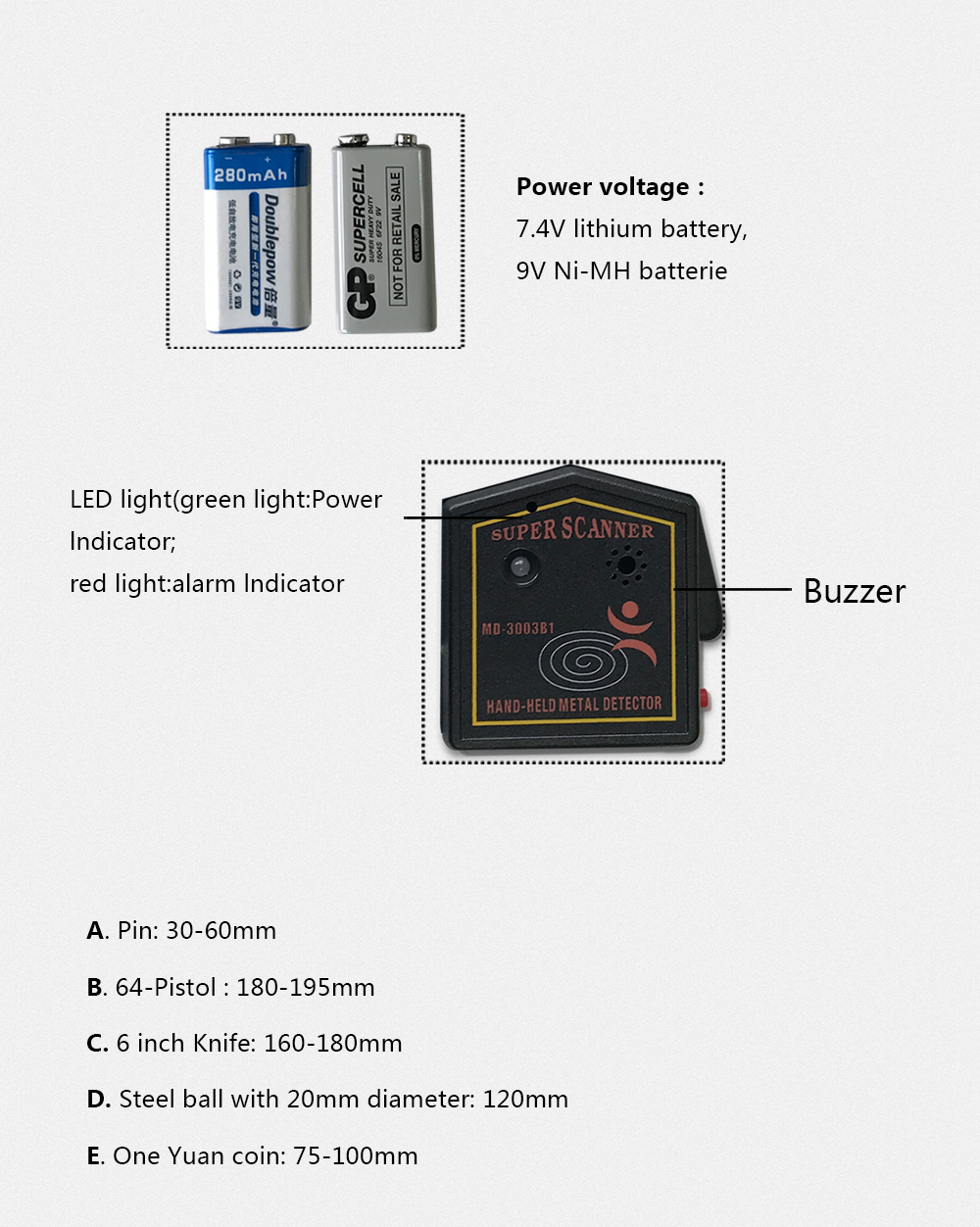 Product packaging

Package:
25pcs/carton               
Gross Weight for a carton:
14kgs                     
 Carton Dimension:
510(L) X 260(W) X 430(H) mm
Scope of application
It is suitable for the quick security check, where intelligent management of channels is required, such as subway stations, customs ports, airports, railway stations, hospitals, schools, communities, supermarkets, clubs, enterprises, and institutions.