HAND HELD METAL DETECTOR: GC-1001
Sale price
$0.00
Regular price
60 people are viewing this right now
Product Description
Technical Data
Packaging and Shipping
Accessories
Download
| | |
| --- | --- |
| Unit Dimension | 410(L)* 80(W)* 40(H) mm |
| Power voltage | standard 9V battery |
| Operating voltage | 7V-9V |
| Alarm Sound | ≥75dB(A) |
| Operating Current | <50mA |
| Configuration | one hand-held metal detector with one user manual simultaneously |
| Net weight |  350g |
| Operation Frequency | 95KHz |
| Housing material | ABS- black |
| Pin | 5-10mm |
| 64-Pistol | 100-160mm |
| 6 inch Knife | 80-150mm |
| Steel ball with 20mm diameter | 50-100mm |
It can be recharged. It needs 4-6 hours for charging. (the charger and rechargeable battery order will be  additional) .Rechargeable Battery Kit, Allows recharging without removing the battery. Includes environment-friendly, Cadmium-free Ni-MH battery and charger.
It is easy and convenient to operate.
The handle is skid proof.
Alarm in different sounds according to different metals, When the low sensitivity on-off is pressed.
It will alarm at different tonalities according to different sizes of the metal. You can connect an earphone to the product when you detect it in a noisy environment.
When the voltage is lower than enough, the red alert light will be on, which indicates that you should replace the battery now.
Two sides both alarm with flashing red light when detecting metal articles.
Super-high accuracy and sensitivity are able to detect tiny metals(up to 0.1g).



Product packaging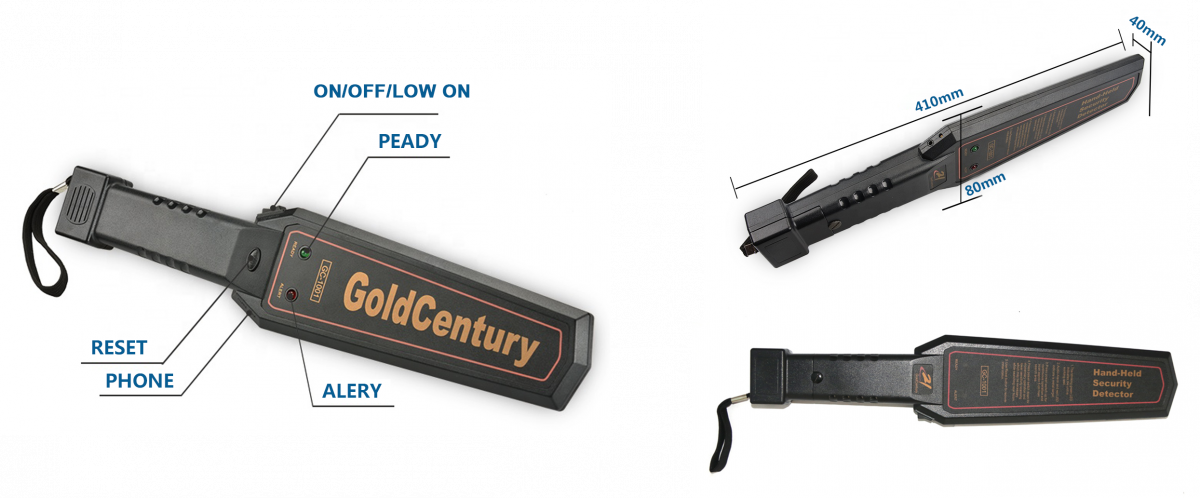 Package: 25pcs/carton                                       Carton Dimension: 490(L) X 215(W) X 440(H) mm
Scope of application
It is suitable for the quick security check, where intelligent management of channels is required, such as subway stations, customs ports, airports, railway stations, hospitals, schools, communities, supermarkets, clubs, enterprises, and institutions.s.